Before you start, ask yourself  –  "Do I know the difference between "Costs Cutting", Costs Savings" and "Costs Management"?
If you don't know, or you are not sure, read on.
Costs Cutting
Costs Cutting is the elimination of items of expenditure with no consideration to the wider impact on productivity. It can impact negatively on sales, customer service and even supplier relationships, and therefore profit.
Costs Savings
Costs Saving is a reduction in the cost of particular items of expenditure whereby the provision of the goods or services is essentially uninterrupted, and both the supplier and consumer are happy with the result.
Costs Management
Costs Management is an ongoing process where by all items of expenditure are reviewed, and where the desirability of incurring the expense is assessed against its importance to the effective operation of the business.  This may result in some costs being cut, some costs being reduced and some costs being increased.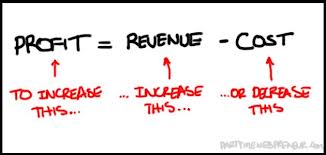 Costs Management recognises that there are legitimate reasons to incur a particular level of expenditure which relate directly to the level of income generated. It is useful to have some form of value measurement for this process to minimise excesses.
So, now you have the accross business definitions, but what can you do with them?
Perhaps as a first step, you might take the time to think about your outgoings and identify those you don't understand. I mean really understand.
Your fixed and mobile phone plans for instance. Or even something as basic as the remuneration for your receptionist. Or as complex as the money you spend on marketing, advertising and promotion.
Only when you truly understand, make the change.
And if you don't have the time, then think about investing a few dollars in someone who can address some of these issues on your behalf.
accross business recently saved one company $10000 a year on their phones. If they had been engaged last year, the savings would have started earlier!
You can sit back and wait, or panic, slash and burn. Or be proactive now and make considered change.